This winter, WirelessCar celebrates twenty years of building, deploying and redefining connected car services. If you have been in this industry for twenty years, that means you are doing a lot of things right. However, it also means that there have been setbacks along the way; setbacks we have learned and grown from, and that have helped us prepare for the future. So, what does that future hold for connected car services and the automotive industry at large? How do our twenty years of insights create value for you and your customers?
Bridging the gap between automotive and software
WirelessCar was created to fill a gap in the market. As someone who was with the company from the beginning, I remember this initial stage very clearly. It was the start of something new and truly exciting – something that had been researched and talked about for decades, and that could now finally be realized. Around the turn of the millennium, there was a lot of buzz about "bridging the gap" between the automotive industry on one hand, and the world of software and telecommunications on the other. Our logotype illustrates these two sides coming together to form a whole, with WirelessCar being the glue that holds it all together.
Of course, bridging the gap between automotive and software was a lot easier said than done. These two industries were quite different in several ways, with very different processes, lead times, backgrounds and ways of working. The product lifecycles alone were initially difficult to synchronize. Things were developing fast, and there was no choice but to try to keep up with it. Most of our competitors could not, and disappeared around this time. We had some setbacks ourselves, but learned from them and got better because of them. Turning experience into expertise is something that has been with us since our foundation.
New digital solutions and learning how to embrace them
At the outset of our journey, two decades ago, we sometimes underestimated the time it would take for certain technologies or concepts to be realized. However, our owners believed in what we were doing, and remained patient. They knew that developing connected car services would take time, but undoubtedly be worth that time and effort.
WirelessCar began as a creative start-up, in a technologically revolutionary era. Brand new communications systems emerged, one after the other: text messages, GPRS, 3G, and beyond. To this day, we as a company have never been intimidated by rapid technological developments. On the contrary, we are eager to stay on top of things and learn as much as we can early on. This is one reason why we were quick to adopt connected cloud solutions, for example.

That said, one must not become so taken by new, shiny objects that you just let go of or neglect existing solutions. Adaptation takes time, and car makers have an obligation to serve their customers for many years after their car purchase.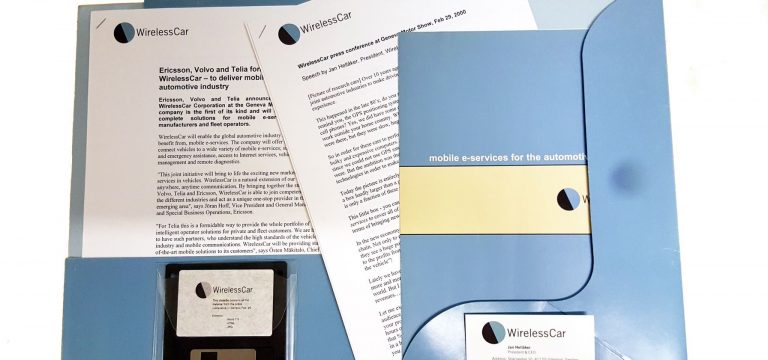 The press release that was used to launch WirelessCar at the Geneva Motor Show, 20 years ago.
Connected car services help car makers forge stronger bonds with drivers
To a lot of drivers, car ownership is not the ideal solution it used to be. What really appeals to them is mobility, and having easy access to a car when they want to use one. This puts traditional car sales to the test, but it also provides car makers with a groundbreaking opportunity.
Connected car services can be sold to customers over and over again, increase brand loyalty, and create closer relationships between car makers and drivers. Historically, any driver who sold his or her car to another person was a lost customer. Today, digital solutions allow car makers not only to maintain their customer relationships for longer, but to create a much more direct relationship with the individual driver. Moreover, it becomes easier to attract and keep second-hand car owners, even though they did not buy their car directly from you or your dealer.
A key word here is convenience. When apps first became popular in the early 2010's, their appeal rubbed off on connected car services as well. Comparatively simple features like locking and unlocking car doors or turning on the heater in the car remotely became very popular among Volvo On Call users. This, our first solution of its kind, had a positive ripple effect. Over the years since, we have developed similar services for several other car makers as well.
Three key connected car developments to keep an eye on
Looking to the future, both short- and long-term, these are three major developments that will affect the entire automotive industry. That goes for car makers, other mobility providers, and certainly WirelessCar as well.

Standardized operating systems in connected cars
Standardized operating systems have started to make their way into the telematics units of connected cars. These systems have thousands of developers, meaning that the embedded software of the traditional black box or telematics unit will no longer be a bottleneck. Instead, the connected car can share more data, more often. That, in turn, allows us to build, enhance and implement new connected car services faster than before. While still in its nascent stage, this is a very exciting development.

Electrification requires connected cars
Electrification and connected car data go hand in hand. Manufacturers of electric cars know the importance of collecting relevant data and providing accurate information based on it. Battery charge status, charging infrastructure availability, and route planning are but some of the popular services that depend on connected car data. Add to that that the electrification process is moving a lot faster than many of us had anticipated.
Automotive newcomers bring new perspectives and ways of working to the traditional automotive industry
Newer car makers, especially in the booming Chinese automotive industry, will not always follow in the footsteps of older brands. These newer brands often see connectivity as a given, as drivers increasingly will too. As such, there will be even stiffer competition for drivers' attention and money in the future. Connected car data is already at the heart of this pursuit.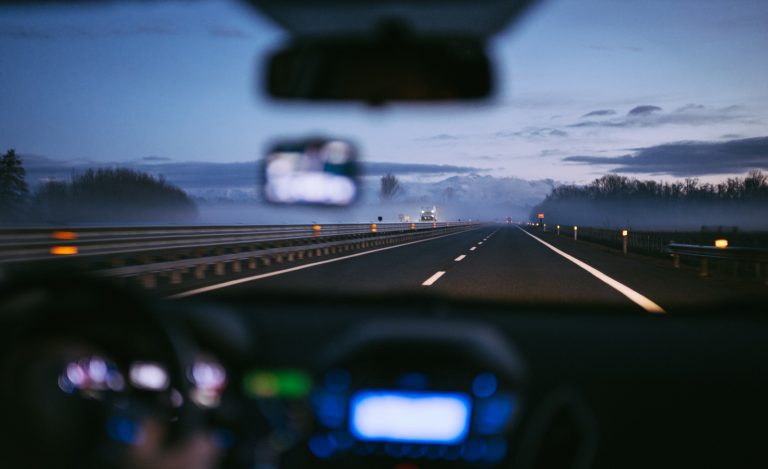 Twenty years of innovative, cybersecure solutions for connected cars
Nothing is constant, except change. Courage and creativity remain two of WirelessCar's strongest assets, constantly taking us across great distances (and over the occasional bump in the road) for twenty years. I have seen us grow from a handful of enthusiasts to an international company of more than 600 employees. Today, we connect well over eight million cars all over the world. With this growth come new insights that make us and our connected car services even better. This knowledge and curiosity is crucial as we help the automotive industry become truly digital – truly connected.
Our entire organization strives to be close to our customers, as we believe that is the best way of working in order to achieve the best possible results. When everyone involved understands the issues at hand, it becomes easier to find the best solution. Our products and solutions, based on our long experience, have been developed to meet some of the main requirements of both car makers and drivers.
We know the automotive industry, as it has been our number one focus since the start. Having many different clients and partnerships in this industry has certainly broadened and deepened our knowledge even further. Our work with cybersecurity and data privacy are good examples of that. Both have been with us throughout our history, and essential to the work we do. At the end of the day, it is not so much about going with a particular software, but rather to have and maintain a brave, innovative mindset. One that can create the right services for the mobility of the future. The journey, as they say, has only just begun.
For more insights on our work with connected car services and the mobility of the future, keep an eye out for new articles here on our WirelessCar Blog. If you found this article interesting, I recommend that you also read about state-of-the-art call center services and what you can do today to create the connected car services of the future.