Connected cars provide the core source of the valuable data flow needed for future connected fleet management solutions. Many of the drivers of tomorrow may not necessarily need, or even want, to own cars. However, that does not mean that they are about to become less mobile. On the contrary, we can expect shared mobility to become an increasingly attractive service, both to drivers and car makers. Connected fleet management is the key that unlocks the full business potential of shared mobility. A connected car fleet will enable OEMs to broaden and deepen their relationships with their customers, provide drivers with a smooth and seamless mobility service, and contribute to a more sustainable society.
Connected fleets expand the role and influence of the car maker
Traditionally, car sales have been about selling a car once, usually to a single owner. However, times are changing. We are starting to witness the transition from car ownership to car usership, where having convenient access to a car becomes just as important as owning one. People still often need cars in their everyday lives; they just do not necessarily need to use their own vehicles, all the time. Through shared mobility, a car can serve lots of customers, be utilized more fully, and earn revenue for the car maker over and over again. Connected fleets, and the data they provide, are essential to making these benefits possible.
Through connected fleet management, car makers can become synonymous not just with physical vehicles, but with the services that make their customer's everyday lives easier. The number of actors offering shared services, in one form or another, is growing. There is stiff competition as to who will provide the best solutions for the drivers of the future, and form the closest relationship to those drivers. Car makers would be the logical leaders in this field. If you already own the customer relationship as far as car ownership is concerned, why not retain that relationship in the area of car usership as well?
Connected fleet management makes shared mobility efficient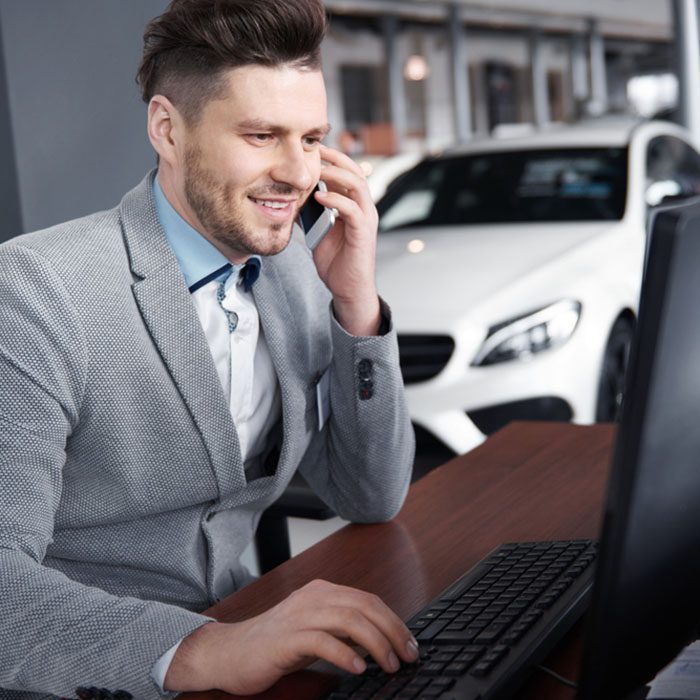 In order to enable this transition, and make shared mobility an efficient service, it is essential to understand, take control of, and utilize the full potential of the end-to-end flow of data throughout your ecosystem. For example, remote control of the cars in flawless integration with the transaction and scheduling might prove to be a dealbreaker in order to solve the challenge of efficiency. By using data in service innovation, you can increase the speed of service development, design and interaction within the organization that addresses car platforms, service manufacturers, connectivity and business owners.
Connected fleet management also gives OEMs the opportunity to take the lead in the ecosystem of shared mobility. Workshops, car washing facilities, lease/rental companies, third party service providers, as well as the drivers and the cars themselves, are all part of the shared mobility ecosystem. This ecosystem relies on the ability of the fleet manager – in this case the OEM – to keep the car accessible, updated and fully functional. Having an unconnected ecosystem wastes the profit.

Thanks to the flow of reliable data from the connected car, car makers can manage this ecosystem with foresight. By setting up a network of workshops and service centers, car makers can quickly have their cars inspected, serviced and repaired when needed. The total cost of ownership can be kept low, and time on the road will be maximized for the fleet.
How connected fleets can contribute to improved cost efficiency as well as improved sustainability and flexibility
Cost efficiency
Shared mobility makes it possible for consumers to only pay for cars when they actually use them. Simultaneously, it offers car makers the possibility to sell their cars over and over again. With the right connected fleet management solution in place, even a vast car fleet of multiple brands can be surveyed. Expenses in terms of repairs and maintenance needs can be monitored and kept low. 
Sustainability
The number of cars on our roads cannot simply continue to increase forever; it is essential that we become better at utilizing the vehicles. Doing so will reduce traffic congestion, and save resources. Thanks to connected car fleets, this can be done while maintaining – even improving – driver mobility. It also enables cities to plan and use their infrastructure more efficiently, and reduces the need for inner city parking spaces.

Flexibility
People's expectations on convenient everyday services continue to rise, with easy and smart mobility becoming yet another aspect of their digital lives. Many drivers would benefit from using different cars for different purposes; a smaller car for just getting from point A to point B, and a bigger one when going shopping or going on vacation, for example. We are seeing the emergence of consumer-to-consumer mobility services, and even new car brands where you do not buy the actual car, but a subscription that allows you to drive the car and share it with other drivers. It presents a challenge – but certainly also a lot of potential – for car makers, as they want to continue to be their customers' main mobility provider.

In conclusion, a connected fleet management solution can both unlock the business potential of shared mobility, and bring benefits to society at large.
Finding the ideal solutions for a fleet usually requires a collaborative effort between the car maker and the service enabler. Want to know more about WirelessCar's work with connected fleets, and how our solutions can help you become a leading connected fleet provider? Contact me at Peter Håkanson, and feel free to read the WirelessCar connected fleet whitepaper.