Today we welcome Theo-Han Jansen on board as our new Vice President of Strategy & Product Management. He is also responsible for the WirelessCar Germany branch in Munich which is due to launch this spring. Theo-Han comes to us with over 30 years of automotive experience, the last 18 of which have been within connected vehicle services – both on the partner and the OEM side. He has spent over a decade working at multiple OEMs such as FCA/Stellantis, Maserati and Ferrari, where he was responsible for implementing global connected vehicle programs.
We caught up with Theo-Han on his first day for a quick Q&A:
What will you do at WirelessCar?
I will be working with the teams on the WirelessCar Strategy and Product Management as well as starting to build the WirelessCar Germany branch in Munich.
Tell us about your professional background.
I've been working in the automotive industry for over 30 years, the last 18 of which specifically in Connected Services both as a partner-supplier (Cobra/Vodafone Automotive, Hughes Telematics/Verizon Connect, Jasper/Cisco) and as part of automotive OEMs (FCA/Stellantis, Maserati, Ferrari). We developed and launched several connectivity programs globally. More recently, I also worked on the EV-specific experiences related to charging and range anxiety (Dynamic Range Navigation, Charging Acces, etc.).
Why did you join WirelessCar and what are our main strengths from your point of view?
I've always followed the incredible journey WirelessCar has been on. The great results that have been achieved mean we are in an unique spot in the automotive industry, since connectivity is the main enabler for all evolutions that are happening right now like Autonomous Driving, Shared Mobility, Electrification, Digitalization and all aspects related to data- and cyber security. We have all the right ingredients to continue to play an important role in supporting all stakeholders in our industry by providing innovative solutions, whether they are OEMs, fleet owners, drivers or dealers, and I'm super excited to work with all teams and contribute with my experience and enthusiasm.
What will be your main contribution to our business/customers/staff in reaching our strategy and objectives?
Having had the opportunity to work with a great variety of OEMs and having been part of OEMs themselves helped me to understand in detail how they "tick" and where their challenges are. This is what I believe is vital for building successful solutions, programs and deliveries. I hope to support the team with my experience in this and make sure that we capitalize as much as possible on our great capabilities and make sure we are ready for the future.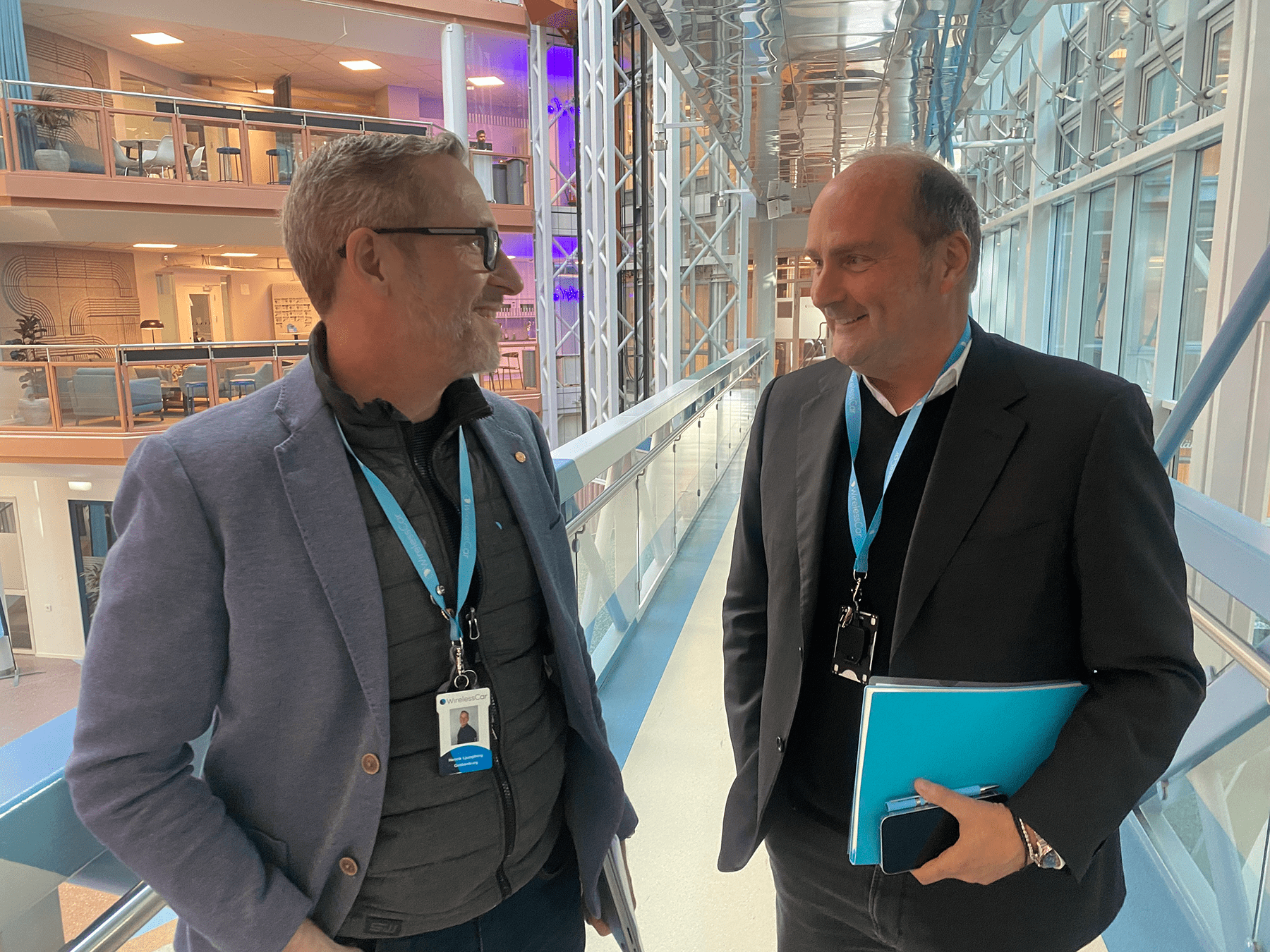 You have a very international background, what are the benefits of that?
Communication is a big part of the challenge we have in identifying and bringing the right solutions to our customers and this is not only related to language. I've had the pleasure of working with many different OEMs with many different cultures between them in Japan, Germany, France, Korea, China, Italy, USA etc., and I learned how to communicate and also how not to communicate with them. It would be great to share this with the teams and make sure that we always get the most out of the interactions with our customers.
What digital service would you personally like to have in your car?
In our day-to-day life we are more and more connected and digital, and when I use my car I would like to have a seamless transition of some of these connected and digital experiences–where safety regulations will allow it of course. Such an experience would be great and would make the car an integral part of our day-to-day digital connected ecosystem.
What changes do you see in the automotive industry and what are the possibilities for WirelessCar?
The automotive industry is going through a profound transformation, mainly caused by safety and environmental regulations and this drives the rapid evolution of how cars are designed, built and driven. As seen during this year's CES, almost all of the main trends in the automotive industry are relying on connectivity as the main enabler. We as WirelessCar have to make sure that we continue to propose solutions as well as offer our knowledge to the industry to support these trends, thus leveraging our capabilities.
What does the future hold?
Going forward, it will be key for us to identify which problems we can solve for the various stakeholders in the industry and for the different types of customers. We at WirelessCar are uniquely positioned and have everything we need to continue to bring innovative solutions and services to OEMs. By applying our knowledge and leveraging our capabilities we will be able to continue creating new offerings that will not only respond to these problems, but also anticipate future needs from the industry.
Welcome to WirelessCar Theo-Han!
What are your thoughts, your challenges, your ambitions? Reach out to Theo-Han here.